Name: Kreoss Amon'da'raza 'Rouge'
Age: 21
Apprence: Kreoss has red hair and is commonly in jeans or long pants of some kind, he has a tattoo of the number '7' which is a link to his darker past. He has many scars from battles and gunfights with targets and sentient forces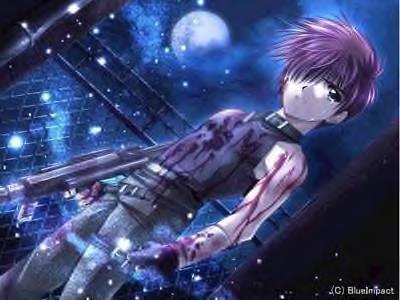 Organization: ex sentient turned hunter/runner
Job: Kreoss is a mercenary who works for people of the mid and slums, due to his deep seated hatred of the rich and powerful
Bio: Part of a proud rich family of the gold city kreoss joined the sentient s to hounor his farther and mother, his past haunts him still as he was involved in many massacares and killings which finally reached boiling point when kreoss fell inlove with a girl from the slums. he started to spend more time their off duty, it was on one of these visits he and her were ambushed by sentients who arrested and executed her there and then for apparently being a hunter, kreoss was outraged, he had loved this woman and now she lay dead in the streets, she had been tried with lack of evidence. when he asked who gave them the information he discovered it to be his mother who had him followed and would not stand for her son to marry out of his social circle. It was at this time at age 19 (on his birthday) he faked his death and left the sentient and vowed revenge on the golden city, his parents and all who had taken her away from him.
He works now for any who need a spare set of hands or an extra rifle, he was a crack shot and was #7. He lives in the slums and always carries two pistols and has access to an array of weaponry at his home.
Intent at the moment all he wants is to earn some money and get back at the society that destroyed his love.